About AGRO LED Tube
The AGRO LED Tube is a unique and energy-efficient full-spectrum LED tube that fits into a standard fluorescent fixture. Together with special adapter sets, they are placed on a Danish trolley so you can quickly and easily create a system for multilayer production under LED light. An absolutele effective system for growing in daylight-free climate cells, in which you can increase the quality of the plant to a higher level and reduce energy cost. This system fits perfectly into the trend of indoor and vertical farming!
The perfect light
AGRO LED Tubes offer a full spectrum of light because the LED tubes mimic a sunny spring day. Research shows that this full-spectrum light is highly effective for the growing cycle of a plant, especially in the germination phase. The plant itself determines which frequency of the light spectrum it uses best. In this way the AGRO LED Tubes guarantee optimal growth.
Stability
AGRO LED Tubes guarantee a constant light spectrum and an even distribution of light. 'Temperature hotspots' are definitely a thing of the past!
High light transmission
AGRO LED Tubes are not made of plastic, like ordinary fluorescent tubes, but made of glass. As a result, the light spectrum is better represented. Thats why AGRO LED Tubes are guaranteed for an unprecedented high light transmission. A big advantage: one percent more light is equal to one percent more profit!
Energy efficient
AGRO LED Tube uses up to 66 percent less electricity than a regular fluorescent tube. This saves money, but also allows you to work sustainably which becomes increasingly important in today's market.
Plug-and-play
The AGRO LED Tubes are quick and easy to mount on Danish trolleys. This creates a simple but flexible system for multi-layer cultivation under LED light. This allows you to produce efficiently, controlled and at low cost in daylight-free climate cells.
Low investment costs
The AGRO LED Tube system is the most affordable system in the market. You generate maximum results at minimum costs!
Long lifespan
The LED tubes last up to six times longer than conventional lighting. You really get value for your money!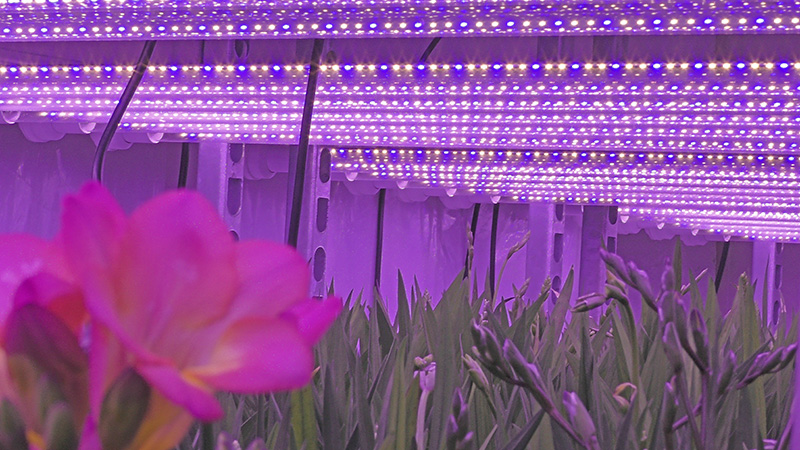 The answer to future challenges
World population is growing: according to estimates by the United Nations, nearly 10 billion people will live on our planet in 2050. That will double the food production on fresher and safer food. The only way we can accomplish this is if we organise our food supply more efficiently – in terms of space and energy – and make it more sustainable.
Indoor farming – growing in conditioned rooms – has the future. This method makes it possible to produce close to large groups of consumers, while product quality and downtime are minimal.
AGRO LED Tube systems fit perfectly into this picture because in this way its possible to steer and control the cultivation optimally. The multi-layer cultivation – the so-called vertical farming – food can be produced more efficiently with lower CO2 emissions.
In short: AGRO LED Tube is future proof!